Oct 5, 2020 11:42 AM ET
iCrowd Newswire – Oct 5, 2020
Zion Market Research has published a new report titled "Automotive Interior Materials Market by Product (Plastics, Composites, Leather, Fabrics, and Metals), by Application (Dashboard, Airbag, and Seat Belts, Seats, Door Panels and Trims, Carpet and Headliners, and Others), and by Vehicle Type (Passenger Cars, Heavy Commercial Vehicles, and Light Commercial Vehicles): Global Industry Perspective, Comprehensive Analysis, and Forecast, 2017–2024". According to the report, the global automotive interior materials market was valued at approximately USD 44.96 billion in 2017 and is expected to generate revenue of around USD 59.97 billion by 2024, growing at a CAGR of around 4.2% between 2018 and 2024.
Automotive interior materials are a significant part of an automotive, as they enhance the ambiance of a vehicle, offer driving pleasure and maximize the comfort to drivers as well as passengers. These interiors are meant to offer comfort to both the driver and passengers. Earlier, high-grade interiors were only found in luxury vehicles, but these days, even mid-sized cars that are cost-effective feature premium interiors. Thus, manufacturers are discovering various cost-effective technologies related to interior materials for their utilization in mid-sized, budget cars. Rising demand for the passenger vehicles and its rapid demand across the globe are anticipated to drive the automotive interior materials market in the years ahead. Furthermore, the introduction of innovative automotive designs is predicted to offer lucrative growth opportunities in the market.
Get PDF Sample Copy of this Report to understand the structure of the complete report @ https://www.zionmarketresearch.com/sample/automotive-interior-materials-market/news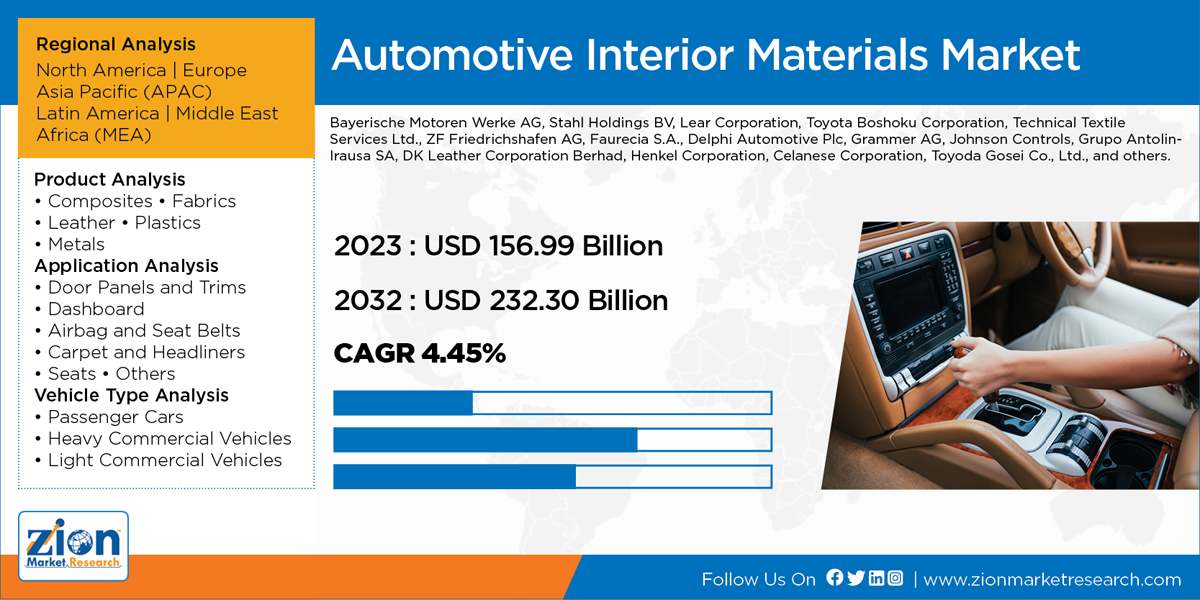 By product type, the automotive interior materials market is segmented into composites, fabrics, leather, plastics, and metals. The plastics segment held a major revenue share in 2017 and is anticipated to dominate during the forecast time period as well. This growth can be attributed to the technological advancements in blended polymers, modern plastic interiors look, and design and processing techniques. Moreover, the rising demand for aesthetically appealing vehicle interiors is likely to increase the demand for plastics in automotive interiors in the near future.
By application, the automotive interior materials market includes door panels and trims, dashboard, airbag and seat belts, carpet and headliners, seats, and others. The dashboard segment held a significant market share in 2017 and is anticipated to remain dominant in the upcoming years as well. Enhancement in vehicle dashboards and their materials has a major impact on the automotive industry, as dashboards are now anticipated to be environment-friendly. Additionally, increased production of dashboards using new technology, materials, and designs is estimated to further boost the automotive interior materials market growth.
By vehicle type, this global market comprises passenger cars, heavy commercial vehicles, and light commercial vehicles. The passenger cars segment is anticipated to lead the market in the upcoming years, as passenger cars are the largest vehicle type used globally. Increasing need to own cars, growing preference for automotive interior materials in cars, and improving living standards of people are likely to contribute toward this segment's growth. Moreover, the rising need for safe commuting and comfort is growing and, thus, the demand for passenger cars is estimated to grow in the upcoming years.
In 2017, Asia Pacific held a major automotive interior materials market share in, both in terms of revenue and volume. The region is anticipated to continue its dominance during the forecast timeframe as well, due to the increasing use of automotive interior materials for different vehicle types in emerging countries, such as India and China. This is due to the increasing need to own cars, growing demand for automotive materials in passenger cars, and improving living standards of people.
Some major players operating in the global automotive interior materials market are Bayerische Motoren Werke AG, Stahl Holdings BV, Lear Corporation, Toyota Boshoku Corporation, Technical Textile Services Ltd., ZF Friedrichshafen AG, Faurecia S.A., Delphi Automotive Plc, Grammer AG, Johnson Controls, Grupo Antolin-Irausa SA, DK Leather Corporation Berhad, Henkel Corporation, Celanese Corporation, and Toyoda Gosei Co., Ltd., among others.
This report segments the global automotive interior materials market as follows:
Global Automotive Interior Materials Market: Product Analysis
Composites
Fabrics
Leather
Plastics
Metals
Global Automotive Interior Materials Market: Application Analysis
Door Panels and Trims
Dashboard
Airbag and Seat Belts
Carpet and Headliners
Seats
Others
Global Automotive Interior Materials Market: Vehicle Type Analysis
Passenger Cars
Heavy Commercial Vehicles
Light Commercial Vehicles
Global Automotive Interior Materials Market: Regional Analysis
North America
Europe
Asia Pacific
Latin America
The Middle East and Africa
You can Buy This Report from Here @ https://www.zionmarketresearch.com/buynow/su/automotive-interior-materials-market/news
Contact Information:
Zion Market Research
244 Fifth Avenue, Suite N202
New York, 10001, United States
Tel: +49-322 210 92714
USA/Canada Toll-Free No.1-855-465-4651
Email: [email protected]
Website: https://www.zionmarketresearch.com
---
Keywords: Automotive Interior Materials Market