Oct 6, 2020 3:10 PM ET
iCrowd Newswire – Oct 6, 2020
Zion Market Research has published a new report titled "Companion Animal Diagnostic Market by Companion Animal (Dogs, Cats, Equine, and Others) and by Technology (Immunodiagnostics [ELISA, Lateral Flow Assays, Immunoassay Analyzers, and Others], Clinical Biochemistry, Hematology, Molecular Diagnostics [PCR, Microarrays and Others], Urinalysis, and Others): Global Industry Perspective, Comprehensive Analysis, and Forecast, 2018—2024". According to the report, the global companion animal diagnostic market was valued at approximately USD 1,713 million in 2017 and is expected to generate revenue of around USD 2,833 million by 2024, growing at a CAGR of around 7.45% between 2018 and 2024.
Since the past decade, there has been a rising trend in pet adoption across the globe. The reputable animal healthcare companies are taking efforts in developing veterinary diagnostic and imaging systems that are cost-effective and efficient. As per the APP (American Pet Products Association), the number of pets owned in the U.S. households has increased by 2.1%, which is significantly higher than it was twenty years ago. Moreover, the rise in the number of nuclear families is triggering the increase in pet ownership. Thus, intensive animal farming and increased expenditure on pet care by owners, especially in advanced countries, are likely to positively impact the companion animal diagnostic market in the estimated time period.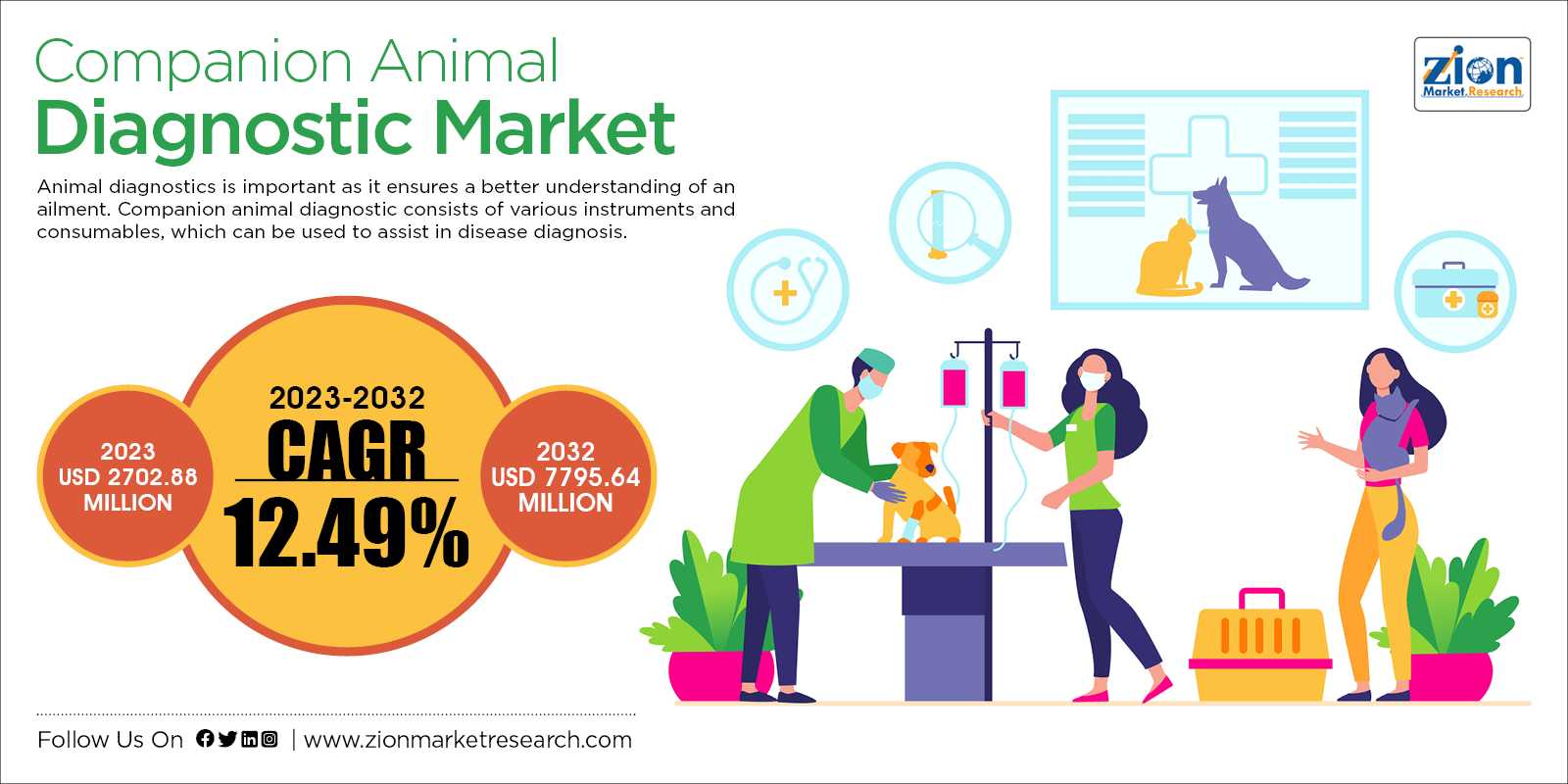 The companion animal diagnostic market is segmented on the basis of companion animal and technology. By companion animal, the market is segmented into dogs, cats, equine, and others. Cats are likely to hold a large market share in the forecast time period. Around 80 million dogs and 85 million cats are owned alone in the U.S. and this number is likely to increase in the future. Urine screening is the most widely used diagnostic screening test to detect cat diseases. Dogs are expected to display a high growth rate in the upcoming period, owing to the availability of fast and affordable DNA tests to detect dog diseases.
By technology, the market is segmented into immunodiagnostics, clinical biochemistry, hematology, molecular diagnostics, urinalysis, and others. The immunodiagnostics is further segmented into ELISA, lateral flow assays, immunoassay analyzers, and others. The molecular diagnostics market is further segmented into PCR, microarrays, and others. Clinical biochemistry held a major share in the companion animal diagnostic market globally. Scientists and clinical vets use most of the therapeutic and diagnostic tools to treat diseases, the introduction of micro methods, and advanced veterinary care in clinical laboratories are propelling the clinical biochemistry segment. The molecular diagnostic is anticipated to register the highest CAGR in the forecast time period, owing to its major focus on pathogens detection, identification, and genotyping. Furthermore, it is also widely used in livestock and veterinary research for vaccine development, host-pathogen interactions, and micro biome.
By region, North America is anticipated to dominate the companion animal diagnostic market and hold a major market share in the forecast period. The presence of major industry players and initiatives taken by them toward animal care is likely to propel the region's companion animal diagnostic market. The key market players are taking initiatives and collaborating with various animal welfare organizations to improve and create awareness for companion animal healthcare. For instance, Ceva, in 2015, renewed its partnership with American Association of Feline Practitioners, to protect animals against diseases further encouraging pet owners to live in urbanized societies and take better care of the pets further establishing standards for research, surgery practices and feline medicine and raising awareness among practitioners and owners.
Some of the leading players in the companion animal diagnostic market are Thermo Fisher Scientific, Heska Corporation, QIAGEN, Randox Laboratories, Abaxis, Inc., IDEXX Laboratories, Inc., Neogen Corp., Virbac, and Zoetis Inc., among others.
This report segments the global companion animal diagnostic market into:
Global Companion Animal Diagnostic Market: Companion Animal Analysis
Global Companion Animal Diagnostic Market: Technology Analysis
Immunodiagnostics

ELISA
Lateral Flow Assays
Immunoassay Analyzers
Others

Clinical Biochemistry
Hematology
Molecular Diagnostics
Urinalysis
Others
Global Companion Animal Diagnostic Market: Regional Analysis
North America
Europe
Asia Pacific
Latin America
The Middle East and Africa
You can Buy This Report from Here @ https://www.zionmarketresearch.com/buynow/su/companion-animal-diagnostic-market/news
Contact Information:
Zion Market Research
244 Fifth Avenue, Suite N202
New York, 10001, United States
Tel: +49-322 210 92714
USA/Canada Toll-Free No.1-855-465-4651
Email: [email protected]
Website: https://www.zionmarketresearch.com
---
Keywords: Companion Animal Diagnostic Market