There's often the misconception that people are only at risk from contracting germs, bacteria, and viruses when out and about – away from home. But that's farthest from the truth!  Indoors too, inhabitants are exposed to these pathogens – perhaps not with as high risk as outdoors, but with potentially serious consequences none the less. If you make electrolyzed water (a.k.a. hypochlorous acid – or HOCI) at home, you could implement a more rigorous cleaning and disinfecting routine to keep your family safe.
The High Cost of Protection 
The cost of commercially-available disinfectant products is considerable. This forces homeowners to curtail their use. Having an in-home capability to manufacture your own disinfectant, through a simple process called electrolysis, may help bridge that gap. And findings from credible research underscores the importance of owning a home electrolysis system (a.k.a. hypochlorous acid-maker). 
Contrary to what many homeowners believe, new variants of the coronavirus may remain active on surfaces and environments within your home, even after your weekly cleaning session. Various surfaces in your home may continue to be risky for some time after you perform routine wipe-downs with off-the-shelf wet wipes, or spray the air with aerosols, including:
– cardboard: up to 24-hours
– copper: up to 4-hours
– plastic and stainless steel: up to 72-hours
– …and in the air: for up to 3-hours
You may buy hypochlorous acid on sale, labeled as various popular brands, but these products are costly, and sometimes – because of supply chain issues – hard to find. Homeowners therefore tend to skimp on their use. However, if you use them liberally and more frequently, you risk putting a dent in your home maintenance budget. 
So, what should homeowners, who are intent on protecting their family from harmful pathogens and bacteria, do?
A Cost-effective Solution: Make your own disinfectant!
To understand why it would be more effective, both financially and in terms of overall protection against viruses and germs, to make electrolyzed water at home, let's look at two alternative options available to most homeowners.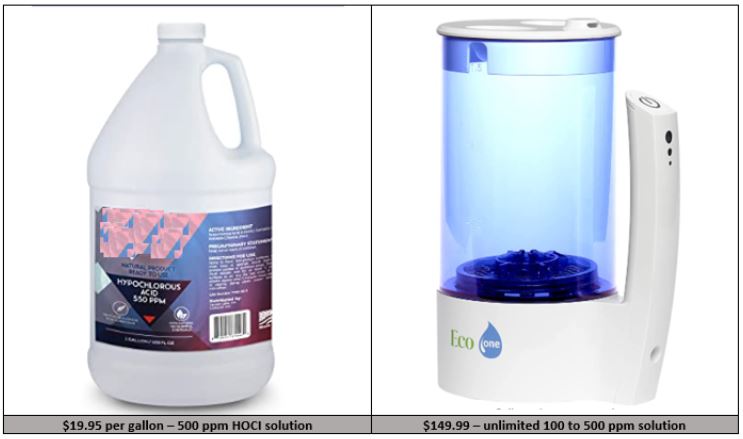 If you are like the "average" homeowner, you'll probably go online and shop for a branded hypochlorite acid solution. One leading online retailer offers such a disinfectant, in a 1-gallon container, at a retail price of $19.95. Typically, if you implement a diligent home cleaning and disinfecting regimen across the home, that quantity may last you a couple of weeks – assuming you clean at least twice a week, and cover all surfaces in the kitchen, bathrooms, toilets, common living areas, garbage bins etc. 
Assuming you use 2-gallons per month, you'll pay $40 for your disinfectant. However, retailing at $150 – from that same online retail giant – is a home electrolysis system that you can use to produce unlimited quantities of HOCI solution – and get a payback in under 4-months! 
The best part is, that having that in-house HOCI-maker allows you to produce disinfectant at various consistencies – from 100 ppm to 500 ppm. If you buy hypochlorous acid ready-made in the 1-gallon container of 500 ppm solution, it is typically unsafe for sensitive use (e.g., food prep surfaces and utensils). Your ability to regulate HOCI concentrations (up to 200 ppm is safe for food disinfecting purposes) brings cost-effectiveness and flexibility to your home disinfection needs.
https://www.amazon.com/Eco-One-Portable-Hypochlorous-Multi-Purpose/dp/B09235LH6Q/ref=sr_1_2?keywords=hypochlorous+acid+generator&pd_rd_r=da5272da-458a-4d63-9579-d6b250c21c12&pd_rd_w=qo9q7&pd_rd_wg=SMXSL&pf_rd_p=baee3516-e45b-42ba-859e-de5632f9c487&pf_rd_r=DTXVMY6GDZ3T8RE31YF7&qid=1650362076&sr=8-2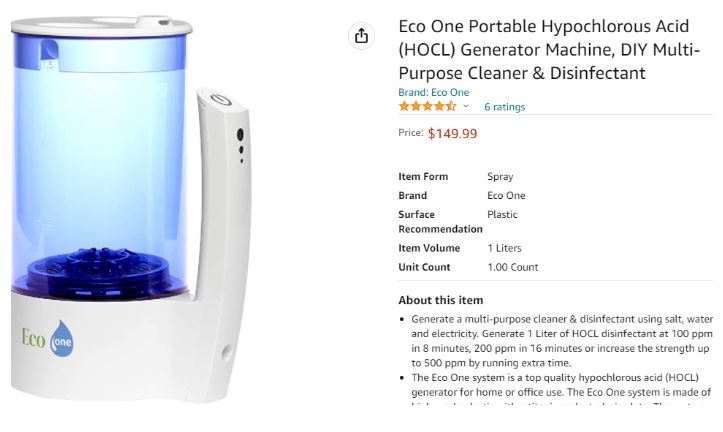 https://www.amazon.com/Vaxxen-Labs-Hypochlorous-Acid-550/dp/B08TYF5NRZ/ref=sr_1_3?keywords=hypochlorous+acid&qid=1650362057&sr=8-3